I admit it, I'm a bit of a calendar freak. I ended up with four wall calendars this year. Two of them are mine and two of them are by other people. We don't have much room for wall art in our little place but I can always find room for a calendar!
So of course since I love calendars so much, I also love making them. I have
16 calendars for sale
altogether. Most of them are from my Life Lessons series, where I add inspirational or funny captions to my nature photography. But I photograph some animals a lot so I end up with tons of pictures, and these animals get calendars all to themselves...these include calendars featuring
hummingbirds
,
coyotes
,
owls
,
dragonflies
, and one with a selection of some of my
favorite nature photos
.
I've been putting together calendars for my Life Lessons series for many years now. Here are a couple of them.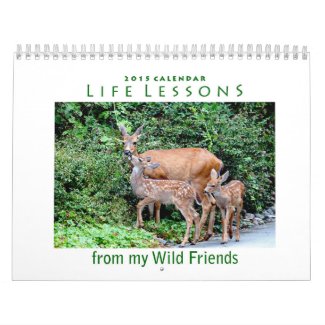 Life Lessons Animal Calendar 2015
by
funnaturephotography
barred owl art